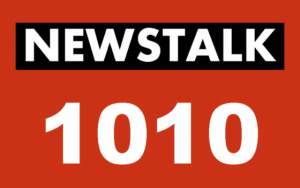 On the Richard Crouse Show for August 9, 2020 we meet Jay Baruchel. He's been acting since the age of twelve and has appeared in everything from "Knocked Up" and "Tropic Thunder" to "The Trotsky" and "She's Out of My League" to the action-fantasy "The Sorcerer's Apprentice" and "This Is the End." He's probably best known as the voice of Hiccup in the wildly successful "How to Train Your Dragon" franchise but he says, despite all the success in front of the camera, what he really wants to do is direct.
Two years ago he wrote and directed the sports comedy "Goon: Last of the Enforcers." Now he appears both in front of and behind the camera in "Random Acts of Violence," a genre film that asks serious questions about how we relate to violence in art.
Based on a 2008 Image Comic, "Random Acts of Violence" begins with comic book writer Todd (Jesse Williams) suffering a case of writer's block. His series, a grisly and successful adaptation of a real-life serial killer dubbed Slasherman, is coming to an end and he doesn't know how to wind it down.
On a press tour from Toronto to New York to promote the final issue, Jesse and friends, visit the scene of the Slasherman's crimes. As the group fall victim to a series of heinous copycat crimes the film asks, "What are the real consequences when life (and death) begin to imitate art?"
I talk about that with Jay in this interview but we started by reminiscing about the "beforetime" when we could go to the movies. I asked him what movie memories stand out for him when he thinks back to the theatre experience.
Then,  we meet Mike Scott, the founding member, lead singer, guitarist and songwriter of The Waterboys. He is a restless creative spirit, known for radical changes in music style throughout what he refers to as his "allegedly unorthodox" career. The music on his solo albums and with The Waterboys explores a number of different styles, including folk, Celtic and rock and roll, fusing them together to create a sound that is not only catchy but unique.
The press release for his newest record "Good Luck, Seeker," says the songs are populated by unrepentant freaks, soul legends, outlaw film stars and 20th Century mystics, drawing inspiration from the Stones, Kate Bush, Sly and Kendrick as well as Mike Scott's very own musical past.
It's a genre busting effort with epic songs like the dramatic, spoken word tune "My Wanderings In The Weary Land" to the earworm of the extremely catchy single "The Soul Singer."
In this interview we talk about the construct of time, the power of the Clash and why he liked a record by Dave Dee, Dozy, Beaky, Mick & Tich enough to spend 8 and sixpence, or about 50 cents on it…
I began the interview by asking Mike Scott why he's never made the same record twice.
Listen to the whole thing HERE!
Here's some info on The Richard Crouse Show!:
Each week on the nationally syndicated Richard Crouse Show, Canada's most recognized movie critic brings together some of the most interesting and opinionated people from the movies, television and music to put a fresh spin on news from the world of lifestyle and pop-culture. Tune into this show to hear in-depth interviews with actors and directors, to find out what's going on behind the scenes of your favourite shows and movies and get a new take on current trends. Recent guests include Ethan Hawke, director Brad Bird, comedian Gilbert Gottfried, Eric Roberts, Brian Henson, Jonathan Goldsmith a.k.a. "The most interesting man in the world," and best selling author Linwood Barclay.
Click HERE to catch up on shows you might have missed!