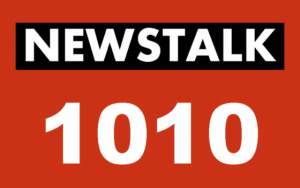 On the August 16, 2020 edition of the Richard Crouse Show we meet Kiesza, a singer, songwriter and pop star with a fascinating story of resilience. From the reserves of the Royal Canadian Navy to writing songs for people like Rihanna to her single "Hideaway" debuting at number one on the UK Singles Chart to collaborating with everyone from Duran Duran to Pitbull and Diplo she is a bona fide pop princess. Then, in 2017 she suffered life altering injuries when a taxi t-boned the car she was riding in. Her recovery from a traumatic brain injury was slow and involved staying in a darkened room for six months but she is back with a new album, a new self-run record label and a new outlook.
Then… In a career that spans five decades Chaka Khan has sold an estimated 70 million records, collaborated with everyone from Ry Cooder and Robert Palmer to Ray Charles and Quincy Jones, from Chicago to De la Soul and Mary J. Blige. She's a musician, singer and songwriter with a shelfful of Grammys. I first saw her, with the band Rufus, on Soul Train singing their mega hit Tell Me Something Good. I became an instant fan and have remained so all these years later.
I had the chance to speak with the music legend via Zoom to talk about her role as the voice of Henrietta the Chicken in the new Disney+ film The One and Only Ivan.
And finally…I speak to Tom Kenny and Bill Fagerbakke, the stars of "The SpongeBob Movie: Sponge on the Run." For more than twenty years Kenny and Fagerbakke have voiced two of pop culture's favorite animated characters, SpongeBob SquarePants and his pal Patrick Star. In the new film, playing in theatres in Canada, SpongeBob and Patrick go on a rescue mission to save SpongeBob's pet snail Gary, who has been "snailnapped" by King Poseidon. In this interview e talk about the new movie, the popularity of SpongeBob memes and why these characters have endured for more than two decades.
Listen to the whole thing HERE!