SIDNEY: 4 STARS. "entertaining and informative doc about an extraordinary life."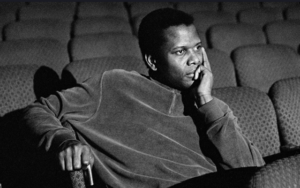 Sidney Poitier, who passed away in January 2022, led a remarkable life, one vividly portrayed in the Oprah Winfrey-produced documentary "Sidney," now steaming on Apple TV+. "He doesn't make movies, he makes milestones," says U.S. President Barack Obama in the film, "milestones of America's progress."
In an interview shot with Winfrey in 2012, the "To Sir with Love" actor, staring directly into the camera, tells of his childhood in Nassau. A master storyteller, he recalls how he almost died as a baby, shares wonderful stories about his loving parents, recalls seeing a car for the first time, and marvels at his first glance into a mirror.
His move to the United States from a predominantly Black community in the Bahamas, is fraught with racism and threats of violence from the Ku Klux Klan, but tempered by kindness from a waiter who helps him learn to read, using the newspaper as a textbook.
Landing in Harlem, he is introduced to the world of acting, and has the good fortune to go on as an understudy in a New York City stage production on the same night a big-time Broadway producer is in the house. That leg up set on a path that would see him become the first Black man to win the Academy Award for Best Actor (for 1963's Lilies of the Field), a civil right activist and diplomat.
It is a comprehensive, linear look at Poitier's life, one that brings Winfrey to tears, and in the retelling of a pivotal scene in "In the Heat of the Night," where Poitier, as detective Virgil Tibbs responds to being slapped by a white redneck, by slapping him back, brings a delightful response from Morgan Freeman.
Director Reginald Hudlin assembles a mix of archival footage, new interviews with Halle Berry, Denzel Washington, Spike Lee, Winfrey and others, and plenty of film clips, to present a well told story of a well lived and influential life. The result is an entertaining and informative doc about an extraordinary life. "When I die," Poitier said, "I will not be afraid of having lived."