NEWSTALK 1010: THE RICHARD CROUSE SHOW WITH COMPOSER HOWARD SHORE!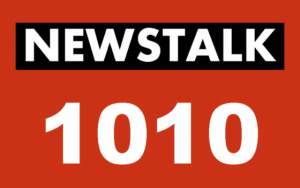 This week on the Richard Crouse Show: Howard Shore has composed scores for over 80 films, including The Lord of the Rings and The Hobbit film trilogies. He has three Academy Awards, three Golden Globe Awards and four Grammy Awards on his shelves and was the original musical director for the American show Saturday Night Live from 1975 to 1980. He is also a consistent collaborator with director David Cronenberg, having scored all but one of his films since 1979. He has also composed a few concert works including one opera, The Fly, based on the plot of Cronenberg's 1986 film.
Based on the award-winning novel by music scholar Norman Lebrecht, THE SONG OF NAMES is a bold journey through friendship, betrayal, and reconciliation.
SYNOPSIS: Martin Simmonds (Tim Roth) has been haunted throughout his life by the mysterious disappearance of his "brother" and extraordinary best friend, a Polish Jewish virtuoso violinist, Dovidl Rapaport, who vanished shortly before the 1951 London debut concert that would have launched his brilliant career. Thirty-five years later, Martin discovers that Dovidl (Clive Owen) may still be alive, and sets out on an obsessive intercontinental search to find him and learn why he left. An emotional story spread over two continents and half a century, the film shows that within the darkest of mysteries sometimes only music has the power to illuminate the truth, heal and redeem.
Listen to the whole thing HERE!
Here's some info on The Richard Crouse Show!:
Each week on the nationally syndicated Richard Crouse Show, Canada's most recognized movie critic brings together some of the most interesting and opinionated people from the movies, television and music to put a fresh spin on news from the world of lifestyle and pop-culture. Tune into this show to hear in-depth interviews with actors and directors, to find out what's going on behind the scenes of your favourite shows and movies and get a new take on current trends. Recent guests include Ethan Hawke, director Brad Bird, comedian Gilbert Gottfried, Eric Roberts, Brian Henson, Jonathan Goldsmith a.k.a. "The most interesting man in the world," and best selling author Linwood Barclay.
Click HERE to catch up on shows you might have missed!