NEWSTALK 1010: Mark Critch, Paul Perrier and "A TRIP TO GREECE" STAR Rob Brydon!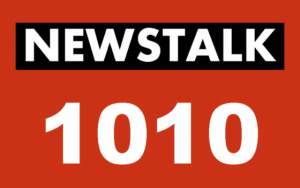 On the May 24, 2020 episode of The Richard Crouse Show we meet comedian and author Mark Critch, photographer Paul Perrier and "The Trip to Greece" star Rob Brydon. Critch talks about life in isolation in Newfoundland, photobombing Justin Trudeau and offering Pamela Anderson $1 million to quit acting. Photographer Paul Perrier talks about "The Mask Project" on Instagram (search thetorontoportrait) and then British comedian Rob Brydon joins us from England to talk about Al Pacino, whether he's keen to fly on a plane again, meeting Michael Caine, and, of course, the fourth instalment of "The Trip" series, "The Trip to Greece" available this week on VOD.
Listen to the whole thing HERE!
Here's some info on The Richard Crouse Show!:
Each week on the nationally syndicated Richard Crouse Show, Canada's most recognized movie critic brings together some of the most interesting and opinionated people from the movies, television and music to put a fresh spin on news from the world of lifestyle and pop-culture. Tune into this show to hear in-depth interviews with actors and directors, to find out what's going on behind the scenes of your favourite shows and movies and get a new take on current trends. Recent guests include Ethan Hawke, director Brad Bird, comedian Gilbert Gottfried, Eric Roberts, Brian Henson, Jonathan Goldsmith a.k.a. "The most interesting man in the world," and best selling author Linwood Barclay.
Click HERE to catch up on shows you might have missed!