NEWSTALK 1010: "Disappearance at Clifton Hill" DIRECTOR ALBERT SHIN!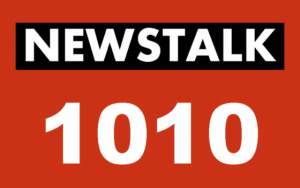 This week on The Richard Crouse Show: Albert Shin, director of "Disappearance at Clifton Hill."
Some info on the movie: "Downton Abbey's" Tuppence Middleton is a woman troubled by a childhood incident. As a little girl on a fishing trip with her parents, she witnessed the kidnapping of a one-eyed boy. Years later, after the death of her mother she returns home to sell the family's run-down motel, the Rainbow Inn. Sifting through some old photos she comes across some old photos that dredge up memories of the terrible event.
Instead of packing up and leaving town she opens an investigation. "I'm someone who saw it," she says. "Saw them take him. I was seven. I was there when it happened and I have proof." When she uncovers the story of some local performers, the Magnificent Moulins, and their missing and presumed dead son she wonders if he could be the one-eyed boy. Her sister Laure (Mindhunter's Hannah Gross) doesn't believe her story—Abby is a pathological liar—but local historian and podcaster Walter (David Cronenberg) does. "Do you know what happens when a body hits the bottom of the gorge?" he asks. "Think swallowing a live grenade." That would explain why no body was ever found, but it opens the door to a conspiracy that leaves Abby questioning her sanity. "There's a lot of history round these parts," Walter says, ominously.
Listen to the whole thing HERE!
Here's some info on The Richard Crouse Show!:
Each week on the nationally syndicated Richard Crouse Show, Canada's most recognized movie critic brings together some of the most interesting and opinionated people from the movies, television and music to put a fresh spin on news from the world of lifestyle and pop-culture. Tune into this show to hear in-depth interviews with actors and directors, to find out what's going on behind the scenes of your favourite shows and movies and get a new take on current trends. Recent guests include Ethan Hawke, director Brad Bird, comedian Gilbert Gottfried, Eric Roberts, Brian Henson, Jonathan Goldsmith a.k.a. "The most interesting man in the world," and best selling author Linwood Barclay.
Click HERE to catch up on shows you might have missed!