NEWSTALK 1010: THE RICHARD CROUSE SHOW WITH ANDREA DORFMAN & SAM MAGGS!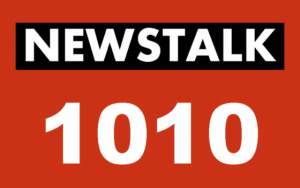 On the August 23, 2020 edition of the Richard Crouse Show we meet Andrea Dorfman, a filmmaker, animator and artist who joins us via Zoom from her home in Halifax, Nova Scotia. Her films have played at film festivals around the world, won awards and she is back with a new one, now on VOD. "Spinster" stars actor and comedian Chelsea Peretti from "Brooklyn Nine-Nine," as a wedding caterer gets dumped on her 39th birthday. Over the next year she builds a new life based on self-empowerment and independence. "Spinster" is being called "the anti-rom-com of the summer," so I began by asking Andrea Dorfman about subverting the rom com genre.
Then country artist Sacha stops by to talk about her EP "The Best Thing."
Finally, we meet Sam Maggs, an author who joins us via Zoom from her home in Los Angeles. Sam is a bestselling author of books, comics, and video games. She's been a senior games writer, the author of many YA and middle-grade books, a comics writer for beloved titles like Marvel Action: Captain Marvel, My Little Pony, and Transformers. She is also an on-air host for networks like Nerdist. Today she joins me to talk about two books, "Con Quest," an adventure novel for young readers set in the world of comics conventions and "The Unstoppable Wasp: Built on Hope," a Young Adult novel based on the world of "The Unstoppable Wasp" Marvel comics series. I love this line in her bio… as a Canadian in Los Angeles, she misses Coffee Crisp and bagged milk. In this interview we talk about her books, why we both feel we have to work all the time and discuss whether that is a good thing or not.
Listen to the whole thing HERE!